11 May

"Skinner Round-Up" Returns to SiriusXM NASCAR Radio on May 14th
Co-hosts Mike and Angie Skinner return for a 12-show schedule, broadcasting any Sunday there isn't a Monster Energy NASCAR Cup Series Race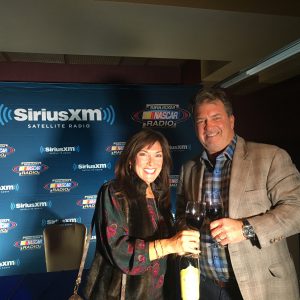 DAYTONA BEACH, Fla. (May 11, 2017) – SiriusXM NASCAR Radio listeners will hear some familiar voices on the air during the afternoon of May 14th, as Mike and Angie Skinner return to the airwaves to cohost their show Skinner Round-Up. With the support of Toyota, the three-hour show will return for a 12-show schedule in 2017, airing any Sunday there isn't a Monster Energy NASCAR Cup Series race.
"Angie and I are really excited to get back on the air with Skinner Round-Up," said Mike Skinner, former NASCAR Camping World Truck Series champion and co-host of Skinner Round-Up on SiriusXM NASCAR Radio. "We love having that time to interact with not only those in the industry, but the NASCAR fan base, too. Likewise, we really enjoy how the show allows us to connect with those in the music and entertainment industries, too. Toyota was generous with supporting our efforts, and I think listeners will really enjoy the several celebrities that we already have lined up to join us for a Toyota Celebrity Drive-By. It's going to be a great year, and Angie and I can't wait for the listeners to tune in."
The show will continue to feature many of the same segments listeners tuned in for in years past. Mike Skinner will continue his weekly technical analysis with a segment titled Skinner's Garage benefiting Hope For The Warriors. They'll continue to kick it old school, sharing secrets and memories from days past with other personalities from inside the garage during a segment called Old School NASCAR. Last, but not least, the duo will continue to catch up with some of the hottest names from Hollywood and Nashville during the Toyota Celebrity Drive-By. As always, listeners are encouraged to interact with the Skinner through both the call-in hotline and social media, using Facebook (/SkinnerRoundUp), Twitter (@SkinnerRoundUp) and Instagram (@SkinnerRoundUp).
Skinner Round-Up will air at 11 a.m. ET on May 14, May 21, July 2, July 9, August 20, August 27, September 10, October 8; and at 12 p.m. ET on November 26, December 3, December 10 and December 17.