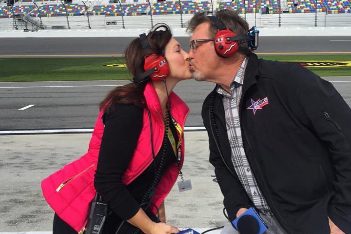 13 Jan

"Skinner Round-Up" hosted by Mike & Angie Skinner adopts new format for 2016
SiriusXM NASCAR Radio show features new segments and new guests in 2016
HUNTERSVILLE, N.C. (January 13, 2016) – Renewed for a second season, "Skinner Round-Up" on SiriusXM NASCAR Radio has adopted a new format for 2016. Adding a new NASCAR Throwback segment, the show will continue to incorporate some of the same great segments and content that listeners grew accustomed to during the show's first year. Hosted by former NASCAR Camping World Truck Series champion Mike Skinner and his wife Angie Skinner, a longtime SiriusXM Radio personality, the three-hour show airs every Sunday there is not a Sprint Cup Series race.
"Angie and I have had so much fun with 'Skinner Round-Up' over the last year, we're excited to be back on SiriusXM NASCAR Radio in 2016 and to expand the show with a new segment," said Mike Skinner. "We had NASCAR veteran Mark Martin on the show back in December and we were laughing together while sharing stories, and it just hit Angie and me—why weren't we doing this every week? That's really how the NASCAR Throwback segment came to be. The show gives us a chance to connect with our friends in the garage and celebrities from all different industries, while also sharing our passion for NASCAR with race fans around the globe. We're very lucky to be a part of it."
New to the "Skinner Round-Up" lineup in 2016 is the weekly NASCAR Throwback segment. Bringing NASCAR champions, veteran drivers and industry leaders back on the airwaves, this segment will allow guests to share their behind-the-scenes stories from the NASCAR garage, while also sharing a laugh with the listeners.
In addition, "Skinner Round-Up" will continue to feature many of its traditional segments that listeners tuned in for last year. Mike Skinner will continue his weekly technical analysis with a segment titled Skinner's Garage presented by WIX Filters. The segment will allow social media users to tweet in their tech questions for Skinner to address on the air, and will also incorporate guest callers from the NASCAR industry throughout the year. NASCAR Outdoors presented by Bad Boy Buggies and E-Z-GO will continue to incorporate a special guest to talk about their outdoor interests and hobbies through this weekly lifestyle segment. Throughout the show's first season, guests included everyone from NASCAR drivers and team owners, to professional hunters, fishers and more. Likewise, the Celebrity Drive-By presented by Cessna will continue to bring celebrity guests from outside the NASCAR industry to the show, while continuing to feature some of the hottest names from both Hollywood and Nashville.
"Mike and I are so grateful to remain a part of the SiriusXM NASCAR family," said Angie Skinner. "I can't tell you how much fun it's been to work on 'Skinner Round-Up.' We really enjoy having a show that allows us to discuss everything that's going on within the NASCAR industry, and then to connect with fans and professionals from within the sport on a regular basis throughout the year. We're so excited for the Throwback segment this year that will enable us to reconnect with old friends, and hopefully share all the stories that we couldn't share before! We have such great partners in WIX Filters, Bad Boy Buggies, E-Z-GO, Cessna, Justin Boots and Maui Jim. Mike and I can't thank them enough for their continued support, which lets us keep having fun on the air!"
The Skinners will continue to interact with listeners through social media. #SkinnerSocial topics will allow fans to weigh in on a question posed by the couple with the top responses shared on the air. Likewise, listeners are encouraged to interact with the Skinners on social media, using Facebook (/SkinnerRoundUp), Twitter (SkinnerRoundUp) and Instagram (SkinnerRoundUp).
Listen to "Skinner Round-Up" on SiriusXM NASCAR Radio any Sunday there is not a Sprint Cup Series event. The show will be broadcast from 12 p.m. ET to 3 p.m. ET during the off-season, and 11 a.m. ET to 2 p.m. ET during the NASCAR season. With more than 20 shows scheduled throughout 2016, "Skinner Round-Up" will next air on Sunday, January 17. A full schedule can be found on the show's social media sites and MikeSkinner.com.
About WIX Filters:
Since 1939, WIX® Filters has been an innovator in filtration products. WIX designs, manufactures and distributes products for automotive, diesel, agricultural, industrial and specialty filter markets. Its product line includes oil, air, cabin interior, fuel, coolant, transmission and hydraulic filters for automobiles, trucks, off-road equipment and manufacturing applications. For more information, visit wixfilters.com. Like us on Facebook at facebook.com/wixfilters, follow us on Twitter @WIXFilters and visit our YouTube page at youtube.com/TheWixFilters.
About Bad Boy Buggies
Bad Boy Buggies is a leader in off-road utility vehicles for hunting and outdoor lifestyles. Bad Boy Buggies pioneered the category of electrically powered 4×4 vehicles, ideal for hunting and outdoor recreation due to their silent, odorless operation and environmentally friendly, emissions-free drivetrains. Today, the Bad Boy Buggies product line ranges from four-wheel-drive electric hunting machines such as the Recoil®, a fully electric, 4WD vehicle with an innovative, highly efficient 72-volt AC electric drivetrain, to the Work Series of diesel and gas-powered utility vehicles, including the Bad Boy Buggies XD, a versatile 4WD, diesel-powered utility vehicle with a total capacity of 1,600 pounds. In 2010, the Bad Boy Buggies brand and product line were acquired by E-Z-GO, a business unit of Textron Inc.
About E-Z-GO
E-Z-GO, a Textron Inc. (NYSE: TXT) company, is a leading global manufacturer of golf cars, utility and personal transportation vehicles, and ground support equipment. Products sold under the E-Z-GO brand include RXV® and TXT fleet golf cars, Freedom® RXV and Freedom TXT personal golf cars, E-Z-GO Terrain™ and Express™ personal utility vehicles, and the 2Five® street-legal low-speed vehicle. Founded in 1954 in Augusta, Georgia, E-Z-GO became part of Textron Inc. in 1960.
About Textron Aviation Inc.
Textron Aviation Inc. is the leading general aviation authority and home to the leading Beechcraft, Cessna and Hawker brands, which account for more than half of all general aviation aircraft flying. The Textron Aviation companies include Cessna Aircraft Company and Beechcraft Corporation, bringing together decades of unmatched experience in designing, building and supporting airplanes. It provides the most versatile and comprehensive general aviation product portfolio in the world through five principal lines of business: business jets, general aviation and special mission turboprop aircraft, high performance piston aircraft, military trainer and defense aircraft, and a complete global customer service organization. Its broad range of products include such best-selling aircraft as Citation and Hawker business jets, King Air and Caravan turboprops and T-6 military trainer aircraft, all of which are backed by the industry's largest global service network. For more information, visit txtav.com.
About Justin Brands, Inc.
Justin Brands, Inc., the recognized leader in Western footwear, is a Berkshire Hathaway corporation (NYSE: BRKa) and its divisions include Justin® Boots, Tony Lama® Boots, Nocona® Boots, Chippewa® Shoe Company and Justin Original Workboots®. The family of brands boasts a rich 136-year-old heritage that values quality leather products. The company actively supports the PRCA and related events and strives to align itself with the western lifestyle through product offerings and events. Justin Brands has also extended its tradition of quality into other lines that tout the same quality, just geared for a non-western industry.
About Maui Jim:
Now the fastest growing premium polarized sunglass maker in the world, Maui Jim got its start in 1980 as a small company selling sunglasses on the beach in Lahaina, Hawaii. Seeing a need in the market for technology that could combat intense glare and harmful UV while bringing the brilliant colors of the island to life, our fledgling company engineered the revolutionary PolarizedPlus® lens. Incorporated into seven new sunglass styles, our Classic Collection was introduced. And with that, we have steadily built a cult following.