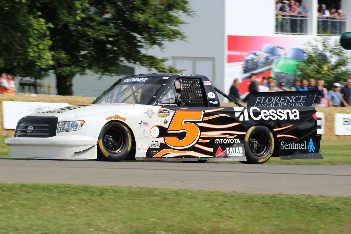 14 Jun

Skinner & Franzone return to Goodwood Festival of Speed with Textron Aviation and Caymus Vineyards
WWE Champion Bill Goldberg will join Mike Skinner and team owner Andrew Franzone to compete at the 25th Anniversary of the Goodwood Festival of Speed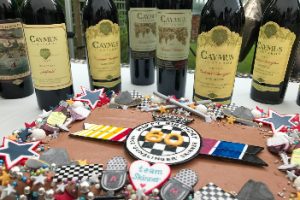 DAYTONA BEACH, Fla. (June 14, 2017) – Textron Aviation, home to the Cessna brand, and Caymus Vineyards will once again make a trip across the pond this summer with NASCAR Camping World Truck Series Champion Mike Skinner and ATF & Gunslinger team owner Andrew Franzone. This will be the third return trip with Textron Aviation and the second with Caymus Vineyards. The group will also be joined by several returning partners from the financial industry, including Florence Capital, Sentinel Real Estate, Warrington, FocusPoint and Start Media.
Skinner will be racing for his fourth-consecutive NASCAR class win at the Goodwood Festival of Speed, which will be held in West Sussex, England, June 29-July 2. With an overall mission of setting speed records, the ATF & Gunslinger team aims to break the 50-second mark in the event's final round of competition—something that's never been accomplished in a NASCAR vehicle on the 1.16-mile hill climb.
"I'm so proud of the partners that we represent each year at the Goodwood Festival of Speed," said Skinner. "Textron Aviation, Caymus, Florence, Sentinel, Warrington, FocusPoint, Start Media—these are all leaders within their industries. Our goal is to be the leaders within our industry of setting speed records and making sure that we're always bringing top-notch equipment to all of our races. I'm so thankful for the continued support of Toyota, Triad Racing Technologies and Goodyear—having that support, those resources, and working with them on research and development for this project, helps ensure that our Toyota Tundra will be at its peak when we unload in England."
Skinner debuted with Textron Aviation during the 2015 Goodwood Festival of Speed. While the weekend may not have gone exactly as planned in his truck dubbed the 'Skinner Special,' it did prove to be rather exciting. Despite a Saturday morning run-in with a hay bale, a fast "back-up" truck allowed Skinner to raise the Cessna hood in the Winner's Circle and earn the "Driver of the Event" award.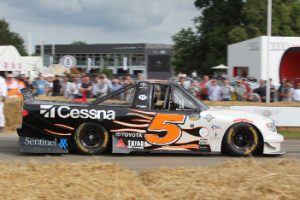 The partnership with Caymus Vineyards will once again unite old friends, as the winery's relationship with Skinner actually spans back to 2008 when they celebrated together in Victory Lane at Las Vegas Motor Speedway while Skinner was racing for Bill Davis Racing.
"It's always thrilling to see someone push the limits, both of their own abilities and the sport as a whole," says Caymus Owner and Winemaker Chuck Wagner. "Mike brings more than skill, but his own personal style to racing. His pursuit of great performance is something we can relate to, and we'll be cheering him and the rest of the team on as they seek to break a new speed record."
Hosted by Lord March at the Goodwood Estate in West Sussex, England, the Goodwood Festival of Speed features every kind of car imaginable from the 1800s through today, while also attracting some of the most accomplished drivers in motorsports. Celebrating its 25th anniversary, this year's Festival of Speed will take place June 29-July 2. Follow @MStheGunslinger on Twitter, or @SkinnerRoundUp on Twitter, Facebook or Instagram for the latest news and updates about Skinner's on- and off-track activities.