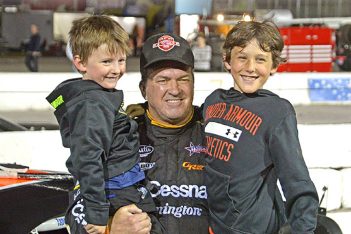 04 Jan

Mike Skinner wins at New Smyrna Speedway
NASCAR Champion Returns to Late Model Racing after a Decade to Win Pro Late Model Race
NEW SMYRNA BEACH, Fla. (January 4, 2016) – Mike Skinner drove to a dominating win in the No. 5 American Auto / Hope For The Warriors / Management Resource Systems pro late model at New Smyrna Speedway on Saturday night. Claiming the checkered flag in the Zack Donatti Memorial 100, the retired NASCAR Camping World Truck Series champion returned to late model competition for the first time in approximately a decade at the half-mile oval in New Smyrna Beach, Fla. The race marked the first event of the 2016 Drive For Hope program organized by Hope For The Warriors, a national nonprofit focused on restoring self, family and hope for post-9/11 service members, veterans and military families.
In a dominating performance, Skinner led all but three laps en route to collecting the checkered flag in Saturday's 100-lap race. After setting the fast lap in qualifying, Skinner rolled off in the fourth position following an inversion that set the final race lineup. The Volusia County resident quickly claimed the lead, taking over the top spot by the fourth lap of the race. A series of mid-to-late race restarts led to several challenges for the front spot; however, the NASCAR veteran ultimately held the lead on each restart to finish the evening in Victory Lane.
"Saturday night's race was such a fun and special night for me," said Skinner. "Racing with my sons and our team at Racecar Solutions, and having some of my grandsons with me in Victory Lane was such a cool experience that I'll never forget. I can't thank our friends EJ Wilcoxon at American Auto, Mike Swaim at Management Resource Systems, and our team owner Andrew Franzone enough for helping me put this race together. To race with Hope For The Warriors on the car and be able to promote their organization was really, really cool. I'm honored to have been able to participate in the Drive For Hope program, to help bring it back to its roots and to kick off the 2016 season. Our service members are the real American heroes, so it means a lot to me to be able to help support them while doing something that I love."
To learn more about Hope For The Warriors, visit HopeForTheWarriors.org.