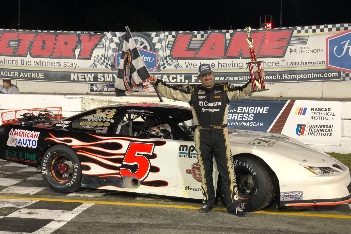 05 Jan

Mike Skinner returns to victory lane with ATF & Gunslinger at New Smyrna's Red Eye 50
NASCAR Truck Series Champion sits on pole, wins race for the first NASCAR Home Tracks sanctioned race of 2019
NEW SMYRNA BEACH, Fla. (January 5, 2019) –Mike Skinner drove to a dominating win in the No. 5 E-Z Line Toyota pro late model at New Smyrna (Fla.) Speedway on Saturday night. Claiming the checkered flag in the Red Eye 50, the NASCAR Truck Series Champion won the pole and led all 50 laps on the half-mile oval en route to his first win of the 2019 season.
Racing with the Port Orange, Fla.-based ATF & Gunslinger team, Skinner secured the pole position with a 18.309-second lap. He went on to draw a two-car inversion, which allowed the No. 5 Toyota to roll off from the front row. Taking over the lead in the first turn on the first lap, Skinner endured three late-race restarts during the final 15 laps before going on to finish the night in Victory Lane.
"First and foremost, we're thinking of Robert Hart tonight and wishing him a speedy recovery, so he can come back to his race track and enjoy some short track racing," said Skinner. "It's really cool to come out to New Smyrna Speedway and win the first NASCAR-sanctioned race of the year. This is the second time that we've been able to do that and being almost 62 years old, I just can't believe it.
"We really struggled in testing and practice this weekend, which we rarely do, but Jamie [Skinner], Dustin [Skinner] and the team just never gave up. It means so much to me to be able to win these races with my boys. I missed so much while they were growing up playing baseball, basketball and racing go-karts, while I was trying to become a NASCAR driver. To be able to have this time together now, working with my sons and winning a race for my grandsons, is so special. I need to thank Toyota, E-Z Line, Mpower, American Auto, and of course my teammate Andrew Franzone, who are all instrumental to our success on and off the track."
Franzone finished sixth in the pro late model division with ATF & Gunslinger's second entry.
Skinner and the ATF & Gunslinger team will return to New Smyrna Speedway next month for 53rd Annual World Series of Asphalt Stock Car Racing.