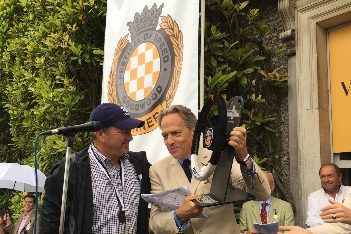 27 Jun

Mike Skinner races to dominant win in NASCAR class at 2016 Goodwood Festival of Speed
Former NASCAR Champion finishes an impressive third overall in hill climb event
GOODWOOD, West Sussex, United Kingdom (June 27, 2016) – Mike Skinner drove his No. 5 Cessna Toyota Tundra to Victory Lane in the NASCAR class at the 2016 Goodwood Festival of Speed in West Sussex, United Kingdom on Sunday afternoon. The 1995 NASCAR Camping World Truck Series champion finished third overall in the competition with a 50.44-second effort up the 1.16-mile course.
"I'm always honored to compete at the Goodwood Festival of Speed and race up Lord March's famous hill climb course," said Skinner. "We have such wonderful support from our partners like Cessna, Toyota, Caymus Vineyards, as well as our financial partners—SunTrust, Sentinel Real Estate, FocusPoint, Warrington and Florence Capital. With the support of my good friend and team owner Andrew Franzone, who also drives the second of the three NASCAR trucks that we bring, and our team from Racecar Solutions, we're able to build a strong truck every year. To be able to say that we've won our class each of the last three years is great; but to say that we finished third overall is even more impressive, since the event is typically dominated by four-wheel drive, Pikes Peak-style hill climb machines. I'm really proud of our effort this year. It was awesome to watch Andrew drive on the course. We missed having Bill Goldberg drive our third celebrity truck to raise awareness for Hope For The Warriors, but it opened up a great opportunity for us to put Richard Childress Racing development driver Carter Stokes, as well as US Marine Corps veteran 1stSgt Travis Hanson in our third Toyota Tundra."
The 2016 event was marred with weather, as rain showers threatened the forecast throughout the entire three days. After running fifth and eighth in Friday's two batch runs among the field of 53 cars, all three trucks sat out during their batch run on Saturday morning due to a wet course. On Saturday afternoon, Skinner returned to the track for a qualifying run, which placed him 13th in the heavy rain. By Sunday's finals, Skinner picked up nearly three seconds from his fastest attempt to record the 50.44-second hill climb run, despite the constantly changing track conditions.
"It was awesome to see Mike drive so well in those slippery track conditions and heavy rain," said Franzone. "They say these trucks are built for a good time, not a long time, and this weekend surely put that to the test. Having driven the same course throughout the entire weekend myself in our second truck, I know how awesome Mike's times were throughout all three days, especially during the final shootout run on Sunday. I want to thank all of our supporters for rallying around the Drive For Hope program, which we're so happy to be a part of, while raising funds and awareness for Hope For The Warriors."
The victory was made possible through joint partnerships with Textron Aviation, Cessna, Beechcraft, Bell Helicopter, Bad Boy Off-Road, E-Z-GO, Toyota, Caymus Vineyards, National Wild Turkey Federation, SiriusXM NASCAR Radio, Charlie 1 Horse Hat Company, Florence Capital Group, FocusPoint, Justin Boots, Maui Jim, Max Papis Innovations, Sentinel Real Estate, SunTrust, and Warrington Asset Management.
Hosted by Lord March at the Goodwood Estate in West Sussex, United Kingdom, the Goodwood Festival of Speed features every kind of car imaginable from the 1800s through today while also attracting some of the most accomplished drivers in motorsports. In 2017, the festival will celebrate their 25th anniversary. Follow MStheGunslinger on Twitter, or SkinnerRoundUp on Twitter, Facebook or Instagram for the latest news about Skinner's on- and off-track activities.