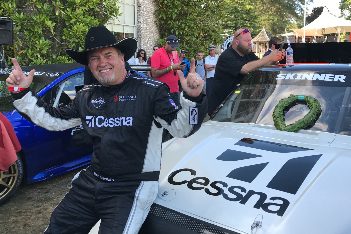 07 Jul

Mike Skinner completes a record-setting 49-second run at Goodwood Festival of Speed
NASCAR Truck Champion wins prestigious "Driver Of The Day" award, finishes sixth overall while becoming first driver to break 50 seconds in the NASCAR Class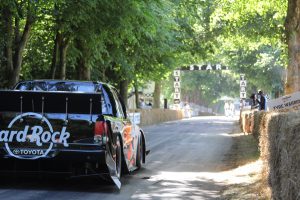 DAYTONA BEACH, Fla. (July 5, 2017) – ATF & Gunslinger was back in the winner's circle at the Goodwood Festival of Speed on Sunday evening. The 1995 NASCAR Camping World Truck Series Champion once again bettered his record along the 1.16-mile hill climb, this time becoming the first driver to break the 50-second mark in a NASCAR racecar with a 49.02-second run. The effort placed Skinner sixth overall in a shootout field of 40 competitors, and helped him secure the prestigious title of "Driver Of The Day" from Lord March for the third time in his eight Goodwood appearances during the 25 years of the event.
"To be able to say that we came to Goodwood and completed the hill climb in 49.02-seconds is really cool," said Skinner. "We've come a long way from 2014 when we first took over the record for the NASCAR class; in fact, we cut 1.2 seconds off of our previous record. That's crazy. The team at ATF & Gunslinger has put so much time and effort into these trucks. We're all really passionate about building fast trucks and racecars, and I think that shows. The support that we receive from Toyota, Triad Racing Technologies and Goodyear is imperative to what we do; their support in our research and development efforts is key. With our partners like Cessna, Hard Rock, Caymus and Florence Capital all representing premium brands off the track, I'm glad that we were able to bring our Skinner Special back into the Winner's Circle."
Skinner was joined by teammate Andrew Franzone in his sixth appearance on the hill climb, as well as WWE Champion Bill Goldberg, who was driving in his first Festival of Speed event. The trio was backed by the ATF & Gunslinger team, which is headed by Skinner's sons Jamie and Dustin.
"As a gear head, as a guy, as Goldberg, as a motorsports fan—the experience at the Goodwood Festival of Speed was a dream come true," said WWE Champion Goldberg. "Honestly, it was one of those overwhelming experiences that's hard to put into words. Just being there with Mike [Skinner] and Andrew [Franzone], and knowing that every time Skinner got in the truck he had the ability to break his record was really cool. For me, making my run up the hill was a daunting task. I didn't really have any time in the truck prior to getting there, so to be running at speed on the course was almost a bit nerve-wracking. Going into a left-hander, off-camber turn in fourth gear, in a truck with that much horsepower and slick tires, on a one-lane road leaves virtually no margin for error; but it certainly does give you an adrenaline rush when you make it to the top and can say, 'I lived!'"
In addition to succeeding in their efforts on the track, the ATF & Gunslinger team also championed their efforts off the track to support our nation's heroes and their families. The team used the opportunity to raise funds and support for Hope For The Warriors, a national nonprofit focused on restoring self, family and hope for service members, veterans and military families. Through a live auction, dinner event and donations collected throughout the weekend, the group was able to donate $62,500 to support programs designed to assist the post-9/11 military community.
Both efforts were supported by a long list of partners, including: Textron Aviation, home to the Cessna brand, Hard Rock International, Caymus Vineyards, Criquet Shirts, Toyota, Triad Racing Technologies, Goodyear and Chin Track Days. As well as returning partners from the financial industry, including Florence Capital, FocusPoint Private Capital, Sentinel Real Estate, Warrington and Start Media.
Follow @MStheGunslinger on Twitter, or @SkinnerRoundUp on Twitter, Facebook or Instagram for the latest news and updates about Skinner's on- and off-track activities.