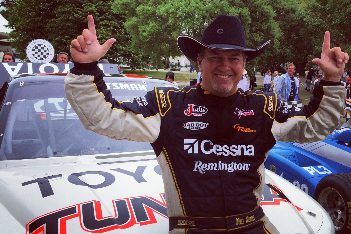 29 Jun

Mike Skinner breaks his own record at Goodwood Festival of Speed
1995 NASCAR Camping World Truck Series Champion Named "Driver of the Day" for the 2015 Goodwood Festival of Speed
WEST SUSSEX, England (June 29, 2015) – Former NASCAR Camping World Truck Series champion Mike Skinner was back to his winning ways on Sunday as he broke his own record time for the NASCAR class of competition at the iconic Goodwood Festival of Speed. After damaging his primary truck on Saturday afternoon, Skinner entered the final round of competition driving the 10th Toyota Tundra racecar ever built. He paced the race against the clock for the NASCAR division to beat the record time he set in 2014 by more than half-a-second and was identified as the "Driver Of The Day" at the 2015 Goodwood Festival of Speed, making for a storybook ending for the American NASCAR driver on his birthday.
"I love participating in the Goodwood Festival of Speed," Skinner said. "To set the record-time for the second year in a row is very special for us. We knew we had a bulls-eye on our back this year, so to be able to come back and still come out on top means a lot to our group. We couldn't do this without the support of great partners like Textron Aviation, Cessna, Beechcraft, Remington and Toyota, and I'm happy that we were able to represent them in victory lane."
Participating in his fifth Goodwood Festival of Speed event, Skinner had to overcome adversity throughout the weekend en route to his record setting run. Skinner was originally slated to compete in the No. 5 Cessna / Remington Toyota Tundra, but that truck sustained competition-ending damage when it made contact with the chicane during Skinner's Saturday morning practice run. As a result, Skinner's teammate and business partner, Andrew Franzone handed over the wheel of his historic Toyota Tundra entry to enable Skinner to make a timed-run in the final round of competition on Sunday afternoon.
Climbing back in the truck he nicknamed "Old Faithful," Skinner recorded a 50.22-second lap to improve his 2014 record time by more than half-a-second. In a tight competition, Skinner's small team, composed of Chris Paulsen of C&R Racing, and Jamie and Dustin Skinner of Racecar Solutions, brought home a 0.05-second win against some of the most successful teams in NASCAR. The effort earned Skinner the "Driver Of The Day" title for the first time in his Goodwood career.
The victory was made possible through joint partnerships with Textron Aviation, Cessna, Beechcraft, Remington, Venus Manhattan / Los Angeles Galleries, Sentinel Real Estate Corporation, Forbes Private Capital Group, Maui Jim, Justin Boots, Charlie 1 Horse Hat Company, WIX Filters, C&R Racing and Racecar Solutions.
"I can't thank Andrew Franzone enough for backing our effort as our team owner," Skinner said. "He was doing a great job driving our historic Toyota Tundra in the hill climb. However, when things went awry with our primary truck, he graciously stepped aside to let me behind the wheel. The weekend didn't exactly go as planned, but it certainly made for a great story, and made our second win at Goodwood that much more special."
Hosted by Lord March at the Goodwood Estate in West Sussex, England, the 22nd annual event featured every kind of car imaginable from the 1800s through today and attracted some of the most accomplished drivers in motorsports.
"Lord March throws the best party I've ever been to in my life," Skinner said. "He's a class act. He opens his home to all of us for this great event, to compete and have a good time, and look at so much beautiful mechanical art. I'm already looking forward to the 2016 Goodwood Festival of Speed."