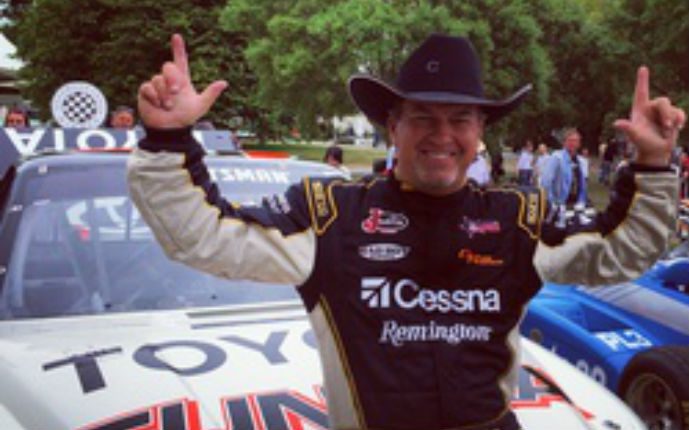 30 Mar

Mike Skinner announces plans for Goodwood Festival of Speed
Three Trucks, Three Drivers, Aiming for One Record-Breaking Run
DAYTONA BEACH, Fla. (March 30, 2016) – With less than three months until the Goodwood Festival of Speed, Mike Skinner is preparing for his annual trip across the pond.
The 1995 NASCAR Camping World Truck Series Champion Mike Skinner will pilot the truck nicknamed the "Skinner Special." Originally a part of the Bill Davis Racing stable, the truck has been set up specifically for road course competition. Returning to the Goodwood Festival of Speed for the sixth time in his career and participating in the timed competition for the third consecutive year, Skinner will attempt his third straight NASCAR class victory while also looking to break his own record time, which was set in 2015.
"I can't wait for this year's Goodwood Festival of Speed," said Skinner. "We have such great support from our partners like Textron Aviation, Cessna and Toyota, and to be able to take three trucks to this year's event is very exciting. We always have such great people support our Goodwood efforts and attend the festival with us, especially our financial sponsors Sentinel Real Estate Corporation, Warrington Asset Management and FocusPoint Private Capital Group. I'm looking forward to spending a great week together, and hope to finish it off with a celebration in the Winner's Circle."
Professional athlete, actor and automobile aficionado Bill Goldberg will drive the team's "Celebrity" truck. A friendship that goes back 10 years, Skinner and Goldberg first met when Skinner drove a racecar promoting a television show hosted by Goldberg in 2005. A two-time World Champion, who has recorded a WWE World Heavyweight Championship, a WCW World Heavyweight Championship and a WCW World Tag Team Championship, Goldberg is also a collector of vintage cars. After undergoing some training with Skinner and Racecar Solutions, Goldberg will make his first appearance at the Goodwood Festival of Speed.
Not only racing for a record, the team is also racing for a good cause. Supporters of Hope For The Warriors, the team will utilize the Goodwood Festival of Speed to raise awareness and funds for the military nonprofit that supports post-9/11 service members, veterans and military families. Participating in Hope For The Warriors' Drive For Hope program, the team will carry decals on their race trucks and firesuits.
Hosted by Lord March at the Goodwood Estate in West Sussex, England, the Goodwood Festival of Speed features every kind of car imaginable from the 1800s through today while also attracting some of the most accomplished drivers in motorsports. This year's Goodwood Festival of Speed will take place June 23-26, 2016. Follow @MStheGunslinger on Twitter, or @SkinnerRoundUp on Twitter, Facebook or Instagram for news and updates throughout the event.