03 Mar

Historic Toyota Tundra returns to action with Mike Skinner at Sebring International Raceway
NASCAR Truck Series Champion earns back-to-back overall wins in Group 10 class in ATF & Gunslinger's first SVRA race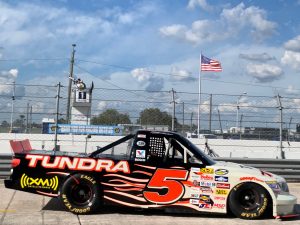 SEBRING, Fla. (March 3, 2019) –ATF & Gunslinger put historic trucks back in action this weekend, as they took on their first weekend of Sportscar Vintage Racing Association (SVRA) competition at Sebring (Fla.) International Raceway. NASCAR Gander Outdoors Truck Series (NGOTS) champion Mike Skinner drove the team to victory in back-to-back wins, while earning the overall class win in each of the weekend's two Group 10 feature races.
"It's such a cool feeling to bring a retired Truck 10—what I view as the most famous Toyota Tundra ever built—back out and let it have another victory," said Skinner. "It's like taking a horse that has been put out to pasture five times, bringing it back out and it keeps performing. It's just an amazing feeling. We have such great partners that allow us to keep doing this. From Toyota, Goodyear and Maui Jim, who have been with us since I was a full-time NASCAR racer, to Cessna, Wilkens Foodservice, JRi Shocks and Overkill Motorsports who have just joined us over the last few seasons—I really appreciate their support. Then you have Howard and Debby Palmer with E-Z LINE Structural Steel Fabrication who are some of our best friends in the whole world; but they're also our partners and they help us go do this with ATF & Gunslinger. It's so special."
Breaking out their fleet of historic trucks, Mike Skinner climbed behind the wheel of historic truck 10 – the first Toyota Tundra to visit victory lane in the NGOTS with driver Travis Kvapil behind the wheel in 2004. Andrew Franzone climbed behind the wheel of the team's "two-seater" truck, which was originally a part of the Bill Davis Racing's fleet and used in their 2008 championship run with driver Johnny Benson.
With Saturday's opening feature race shortened to just five laps due to time constraints, Skinner started the race from the outside pole. By the time the field made it to the first corner on the 3.74-mile course, Skinner overtook the lead in the No. 5 Toyota Tundra. Unfortunately, the race was ultimately shortened to three laps after another competitor's car caught fire on the front stretch.
On Sunday, Skinner led the field to the green flag from the pole position and almost immediately began pulling away from the pack. By the race's halfway point, Skinner had nearly a five-second lead on second-place. Maintaining the point position to the finish, Skinner took his second win of the weekend.
"Our truck drove amazingly well this weekend," Skinner continued. "It was fun to beat all those GT cars. I didn't expect to win the race overall; I was just hoping that we could outrun the other NASCAR cars. There were some famous cars out there—the 12 car from Ryan Newman's days with 900-some horsepower in it, the Valvoline car that's got almost a thousand horsepower in it. To go out there with a legal phase nine engine that Toyota and TRD created in 2004 and run with those guys, it tells you how far ahead of their time Toyota was as they entered the sport of NASCAR."
ATF & Gunslinger will return to SVRA competition later this month, March 29-31, at Michelin Raceway Road Atlanta. In addition to racing in group 10, Skinner will join the "Group 6" big bore sports cars & sedans to contend in the Vintage Race of Champions (VROC) Celebrity Pro-Am race benefitting Hope For The Warriors.