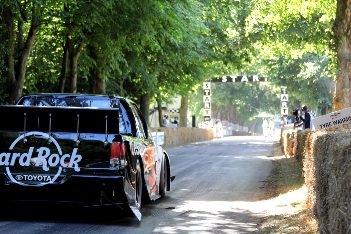 22 Jun

Hard Rock and Criquet Shirts join the ATF & Gunslinger Team
New partners joining team with NASCAR Truck Champion Mike Skinner, Andrew Franzone and WWE Champion Bill Goldberg behind the wheel in England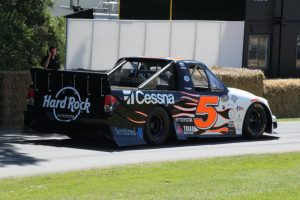 DAYTONA BEACH, Fla. (June 21, 2017) – ATF & Gunslinger will have two new partners aboard their trucks this month when they kick off their 2017 hunt for speed records. Hard Rock International and Criquet Shirts have both joined the effort as NASCAR Champion Mike Skinner looks to break the 50-second mark in his run up the legendary 1.16-mile hill climb at this year's Goodwood Festival of Speed. Skinner, the three-time defending NASCAR class champion and 2016 third-place overall finisher, will be behind the wheel of the "Skinner Special" – a Skinner designed and built NASCAR truck that has been specially set up for going after record times on all sorts of road, oval and hill climb courses. With 2017 marking the event's 25th anniversary, the Goodwood Festival of Speed will take place this June 29-July 2 in West Sussex, England.
"We're really excited to have Hard Rock International and Criquet Shirts come on board this year," said Skinner. "We're continuing to add industry leaders to our group of partners, and Hard Rock and Criquet are just two more examples of that. I'm really looking forward to getting on the hill climb next week. I'm proud of the trucks that my sons, Jamie and Dustin, and the rest of the ATF & Gunslinger team have built and I think our goal of breaking the 50-second mark is within reach."
Famous among Americans and British and the rest of the world, Hard Rock International is one of the most globally-recognized brands due to its 174 cafes, 24 hotels and 11 casinos across 74 countries.
"Hard Rock International is proud to be a sponsor of the ATF & Gunslinger team," said OB Osceola, Seminole entrepreneur and founder of The Osceola Group. "We're excited to be able to support Mike Skinner, Andrew Franzone, and American icon, Bill Goldberg. We are honored to attend such an incredible event on the beautiful grounds at Lord March's Estate and to be able to watch the ATF & Gunslinger trucks make their run up the hill climb course."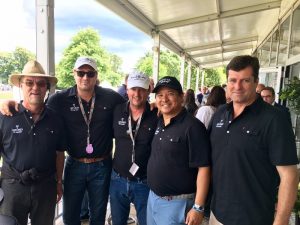 The ATF & Gunslinger team will not only launch their partnership with Criquet Shirts, but will also be sporting the brand's signature Players Shirt throughout the Goodwood Festival of Speed. Established in 2010, the Austin, Texas-based Criquet Shirts looks at a classic style with a fresh set of eyes, taking inspiration from the past while bringing new ideas about design and materials into play whenever it makes sense.
"Criquet Shirts is super excited to be partnered with The Gunslinger and team, as they continue to break speed records around the world," said Billy Nachman, co-founder of Criquet Shirts. "From his SiriusXM radio show, to his role on The Grand Tour, to his many charitable commitments, Mike is a true Criquet man and embodies the 19th Hole spirit behind our brand. We could not be happier to be outfitting him and his team in our signature Players Shirt."
The ATF & Gunslinger team will once again return to the Festival of Speed with a three-truck line up. Andrew Franzone and Bill Goldberg will drive the team's other two trucks in the NASCAR class. The team will also utilize the opportunity to raise funds and awareness for Hope For The Warriors, a national nonprofit focused on restoring self, family and hope for service members, veterans and military families.
In addition to the new partners, Hard Rock International and Criquet Shirts, the ATF & Gunslinger team will also be joined by returning partners Textron Aviation, home to the Cessna brand, Caymus Vineyards, Toyota, Triad Racing Technologies and Goodyear. Additionally, returning partners from the financial industry, include Florence Capital, Sentinel Real Estate, Warrington, FocusPoint Private Capital and Start Media.
Follow @MStheGunslinger on Twitter, or @SkinnerRoundUp on Twitter, Facebook or Instagram for the latest news and updates about Skinner's on- and off-track activities.