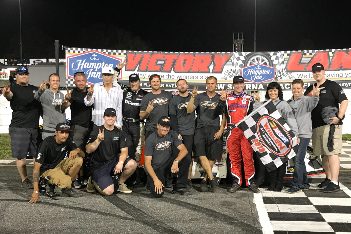 12 Feb

Cole Anderson scores second win of New Smyrna Speedway's Speedweeks
NEW SMYRNA BEACH, Fla. (February 12, 2018) – Northfield, Minn., native Cole Anderson took his second win of the 2018 World Series of Asphalt Stock Car Racing at New Smyrna (Fla.) Speedway in the Pro Late Model division on Monday night. Driving the No. 97 TimberwolfPlastics.com Toyota Camry for ATF & Gunslinger, Anderson started the race from the sixth position and led the final 16 laps en route to his victory in the 35-lap feature. With a third-place finish in the opening night of competition followed by two race wins, Anderson currently leads the points in the Pro Late Model division.
"I'm really happy with the performance of this ATF & Gunslinger team," said Anderson. "To get them two wins at Speedweeks and to be leading the points heading into the final three nights is pretty special. I really feel like Dustin [Skinner, crew chief] and I have a good connection and he knows what I like and need in a racecar. The whole team puts in so much effort and it really shows. Hopefully, we can keep up this performance and close out the World Series with a championship."
Anderson will be back behind the wheel of the No. 97 TimberwolfPlastics.com Toyota Camry when the Pro Late Model division returns to New Smyrna Speedway on Wednesday night. For more information about Cole Anderson, visit ColeAndersonRacing.com.