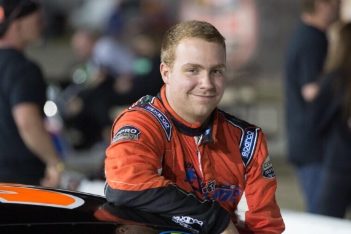 21 Jan

Cole Anderson joins ATF & Gunslinger for the 2018 season
Minnesota native joins the team to compete at the Pro Late Model and Super Late Model levels across the Southeast under the guidance of NASCAR Camping World Truck Series champion Mike Skinner
DAYTONA BEACH, Fla. (January 21, 2018) – Cole Anderson, the 20-year-old self-described "racing late bloomer" from Minnesota, is set to kick off his 2018 race season with ATF & Gunslinger at the World Series of Asphalt Stock Car Racing during Speedweeks at Florida's New Smyrna Speedway next month. With the Daytona Beach, Fla.-based team under the guidance of NASCAR Camping World Truck Series champion Mike Skinner and team owner Andrew Franzone, ATF & Gunslinger enlisted the up-and-coming driver to compete in Pro Late Models and Super Late Models throughout the 2018 season.
"I'm super excited to join the ATF & Gunslinger team for 2018," said Anderson. "I think with the leadership of Mike [Skinner], with his experience and knowledge, it will shorten my learning curve in asphalt super late model racing. This could not be possible without the support of our team owner Andrew Franzone; he has believed in me and helped me out a lot."
After catching the attention of Skinner, Anderson will race with the experience of ATF & Gunslinger's veteran crew behind him. With the team doing everything from competing at the late model level to building and preparing NASCAR Camping World Truck Series trucks specialized for competition at motorsports festivals and recording speed records at race tracks across the country, the team is well versed in a variety of motorsports disciplines.
"I'm really excited to see what Cole's able to do behind the wheel this season with ATF & Gunslinger," said Skinner. "I remember racing against him at New Smyrna a few years ago and immediately took notice of his talent. Cole has a very laidback, quiet demeanor. You never know what he's thinking, but I feel he has the talent to be a good racer. I think he's trainable. When there's a car in front of him, all he focuses on is getting by that car like a hungry dog. That's what we're looking for. That's the kind of guy that has the potential to move to the next level. I think we're going to have a great year together."
In addition to competing with ATF & Gunslinger for a varied schedule of Pro Late Model and Super Late Model events across the Southeast, Anderson will join the team for key events, as the team looks to develop not only the driver's talent on the track, but also help him develop off the track, too.
The team's first outing of 2018 will be a trip to Charlotte Motor Speedway's new road course track, nicknamed "The Roval," on Monday, January 22. Skinner, a NASCAR Camping World Truck Series Champion, will make hot laps around the track, shaking down his truck to prepare for the team's June trip to England for the Goodwood Festival of Speed, before giving rides in a second two-seater truck to members of the media. Meanwhile, Anderson will have a chance to engage with the various participants and guests at the track.
For more information about Cole Anderson, visit ColeAndersonRacing.com.