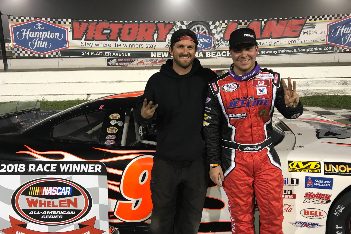 14 Feb

Cole Anderson goes three in a row at New Smyrna Speedway
ATF & Gunslinger drivers run 1-2 in the Pro Late Model race with Cole Anderson and Mike Skinner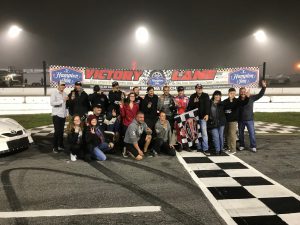 NEW SMYRNA BEACH, Fla. (February 14, 2018) – Northfield, Minn., native Cole Anderson pulled off a hat trick at New Smyrna (Fla.) Speedway on Wednesday night with his third-straight win in the Pro Late Model division. The ATF & Gunslinger team once again showed their strength at the half-mile oval, as NASCAR Camping World Truck Series champion Mike Skinner ran runner-up to his teammate. With three nights of racing remaining, Anderson continues to lead the point standings for the Pro Late Model division.
"Overall, we had a solid night again," said Anderson. "We struggled a little bit with the car during practice, but we got it figured out for the race. We really tried to roll the top in the beginning to get the lead, and rode behind the No. 7 car for a few laps to see where he was weakest before deciding where to make my move. We struggled a little bit with the visibility, so the restarts were tough. However, all-in-all, it was a good night and I just couldn't be more thankful for everyone at ATF & Gunslinger for making all this possible."
Anderson started the race from the sixth position, and steadily started his charge through the field. Taking the lead by the 18th lap, Anderson fought back on several restarts as dense fog quickly settled over the speedway. With drivers unable to see the flag stand and spotters unable to see the backstretch, race officials made the decision to end the race after 25 laps.
"I'm really proud of both my sons and the whole race team at ATF & Gunslinger," said Skinner. "I couldn't be prouder of Cole because he's showing so much more maturity this year than he did even a year ago. Now, we just need to keep it together for three more nights. I think he can handle the pressure—fingers crossed."
Anderson will be back behind the wheel of the No. 97 TimberwolfPlastics.com Toyota Camry for a 35-lap feature on Thursday night. For more information about Cole Anderson, visit ColeAndersonRacing.com.