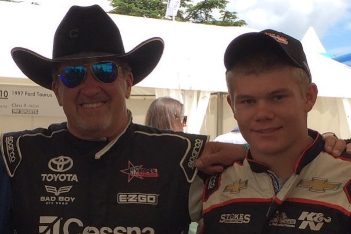 19 May

Carter Stokes races to honor fallen service members in advance of Memorial Day holiday at Bristol Motor Speedway
Richard Childress Racing development driver to take on the best in short track racing under the guidance of NASCAR Camping World Truck Series champion Mike Skinner

DAYTONA BEACH, Fla. (May 19, 2017) – Carter Stokes, a Richard Childress Racing development driver, will race under the guidance of NASCAR Camping World Truck Series champion Mike Skinner at the Inaugural Short Track U.S. Nationals at Bristol (Tenn.) Motor Speedway. Driving the No. 33 in the Pro Late Model class for the ATF & Gunslinger team owned by Andrew Franzone, Stokes will honor and remember our nation's heroes leading up to the Memorial Day holiday while racing with Hope For The Warriors on his car.
"I'm really honored to have Hope For The Warriors on the hood of our car this weekend," said Stokes. "They do so much to help our service members, veterans and military families, so hopefully we can get them a little extra recognition this weekend."
Sunday's race will mark Stokes' first start at the track known as "the world's fastest half-mile."
"We're really excited to have Carter Stokes in our ATF & Gunslinger machine this weekend," said Skinner. "We've been working with him for about two years now, and it's been really fulfilling for me to watch the progress that he's made in that time. I've learned a lot over my career, and honestly, I'm probably a better driver now than I ever was while I was racing fulltime. It's too late for it to really help my career, but that doesn't mean that I can't help ease the learning curve for up-and-coming drivers like Carter."
The ATF & Gunslinger team incorporates Hope For The Warriors into many of their ventures, raising awareness for the organization through their racing efforts with logos on cars, trucks and firesuits, as well as sharing the nonprofit's mission of restoring self, family and hope for post-9/11 service members, veterans, military families and families of the fallen among the team's supporters.
"It's going to be really cool watching Carter Stokes run at Bristol in the first ever Short Track U.S. Nationals race," said Franzone. "He's been so successful in making his switch from dirt to asphalt racing a couple years ago. I was out racing on the track with him the night of his first short track oval win with our team, and he hasn't missed a beat since—racking up wins and accomplishing so much off-the-track by helping Hope For The Warriors and our nation's heroes as part of the Drive for Hope program. For us on the team, that's been one of the coolest things because of how much Hope For The Warriors means to us as Americans, especially with Memorial Day coming up next weekend."
The Short Track U.S. Nationals will take place May 19-21, with feature racing beginning at 2 p.m. ET on Sunday afternoon.