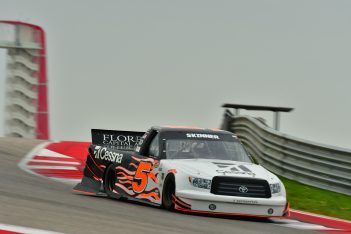 10 Apr

ATF & Gunslinger takes on Circuit Of The Americas in Austin
NASCAR Camping World Truck Series Champion Mike Skinner joined by television personality, welder & entrepreneur Jesse James making hot laps around the world-class course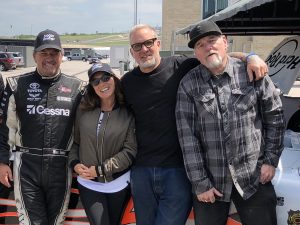 DAYTONA BEACH, Fla. (April 10, 2018) – ATF & Gunslinger took on Circuit of the Americas (COTA) in Austin, Texas over the weekend. With their fleet of customized NASCAR trucks, the team made laps around the track with NASCAR Camping World Truck Series Champion Mike Skinner, ATF & Gunslinger team owner Andrew Franzone, and television personality, welder and entrepreneur Jesse James behind the wheel.
"I raced for Kevin Harvick in the [Camping World] Truck Series, and I actually crashed really bad … I was kind of like 'okay, I'm done,' but I forgot how much I really loved it," said James. "This is the first time that I've been back in a truck since then. It came right back. All I need to do is like smell race fuel and I'm like 'I get it.' The truck is set up so great; it's like perfect—you can tell that Mike and his crew spend a lot of time on it. Usually you jump in stuff and it like pushes or it's just not too right; this thing is bitchin'."
The weekend marked a lot of firsts for the ATF & Gunslinger team – it was their first trip to COTA, it was the first time James piloted one of the team's trucks, and it was the first time that Skinner turned laps around the 3.41-mile, 20-turn road course circuit.
"COTA is a first-class facility," said Skinner. "It's a very technical track with both high-speed and low-speed corners. It's probably a little better suited for sports cars than NASCAR-style cars, but what a bad ass place it would be for a [Camping World] Truck Series race! I really loved having the opportunity to run there."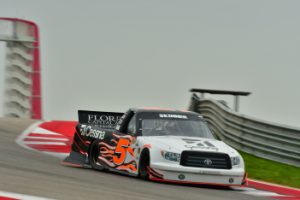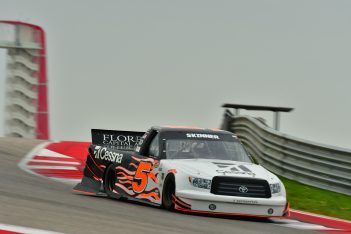 The event was part of ATF & Gunslinger's Track Days program, where the team invites their partners and guests to ride shotgun around America's premier racing circuits with Skinner behind the wheel in a modified two-seater NASCAR truck.
The team also utilizes Track Day events as an opportunity to fine-tune their "Skinner Special." With a Toyota NASCAR motor and a customized body, the Skinner Special was built by the ATF & Gunslinger team to pursue speed and records at iconic tracks, courses and motorsports events.
The ATF & Gunslinger team will return to Sebring (Fla.) International Raceway for additional track days events later this year.