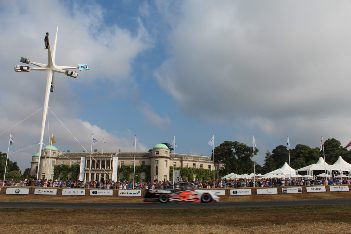 17 Jul

ATF & Gunslinger leaves Goodwood achieving 48-second goal, fastest in the NASCAR class
Daytona Beach, Fla.-based team records a 48.25-second run in the Goodwood Festival of Speed Shootout final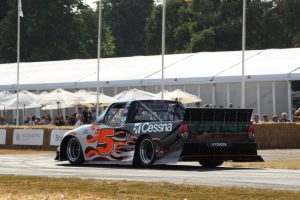 WEST SUSSEX, England (July 17, 2018) –The ATF & Gunslinger Racing team returned to the Goodwood Festival of Speed for their fifth consecutive year with NASCAR Camping World Truck Series Champion Mike Skinner and reorded a 48.25-second lap on the 1.16-mile hill climb. After winning the NASCAR class each year since 2014 and bettering record after record, the Andrew Franzone-owned team came to Goodwood with the goal of recording a lap in the 48-second bracket.
Skinner, who was driving a 2008 Toyota Tundra with backing from Textron Aviation that was modified specifically for hill climb competition, was joined by Franzone in historic Truck 10—the first Toyota Tundra to win a NASCAR race—and WWE Champion Bill Goldberg who was driving a truck from Bill Davis Racing's 2008 championship run.
"Once again, the Goodwood Festival of Speed was an amazing event," said Skinner. "We're so blessed to be a part of it every year with great partners like Textron Aviation, Florence Capital Advisors, E-Z Line and Toyota. It's such a unique event, and we love it for our friends, partners and all the fans that get to come out and experience it. We had a very successful week with our Cessna Toyota Tundra, and we hope to come back next year and do it all again."
In a weekend of highs and lows, Skinner recorded a career-best run on the hill climb with a 47.98-second run during Thursday afternoon's shootout practice. After another competitor spread dirt on the course during Saturday's qualifications, Skinner got loose exiting the second corner and slid across the grass in front of the Goodwood estate, losing mere seconds on the run. Needing to do some repair work to the front-end of the truck, the ATF & Gunslinger team went to work fixing their truck and Skinner went on to run a 48.25-second lap finishing seventh overall in Sunday's finals.
The efforts were supported by a long list of partners, including: Textron Aviation, home to the Cessna brand, Toyota, Goodyear, Florence Capital Advisors, FocusPoint Private Capital, Insight Financial, E-Z Line, TBS Engineering and Chin Track Days.
Follow @MStheGunslinger on Twitter, or @SkinnerRoundUp on Twitter, Facebook, Instagram or YouTube for the latest news and updates about Skinner's on- and off-track activities.