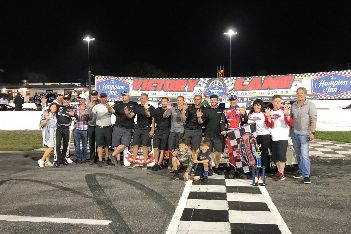 21 Feb

ATF & Gunslinger dominates Speedweeks at New Smyrna Speedway
Drivers Cole Anderson and Mike Skinner finish 1-2 in the 52nd Annual World Series of Asphalt Stock Car Racing Championship
NEW SMYRNA BEACH, Fla. (February 21, 2018) – ATF & Gunslinger team dominated the Pro Late Model division of the 52nd Annual World Series of Asphalt Stock Car Racing at their home track of New Smyrna (Fla.) Speedway. With five wins in seven races, the team run by Mike Skinner and team owner Andrew Franzone scored a finish inside the top two positions every night of competition. Up-and-coming driver Cole Anderson, a 20-year-old from Northfield, Minn., drove the No. 97 TimberwolfPlastics.com Toyota Camry, while NASCAR Camping World Truck Series Champion Skinner wheeled the No. 5 Toyota Camry for the Daytona Beach, Fla.-based team.
"The ATF & Gunslinger team had a great run at Speedweeks," said Skinner. "Dustin and Jamie [Skinner] are talented racers that have a proven ability to build winning race cars, and I think the last week and a half has just been another example of that. We look to mold our drivers through their success and adversity—we had a couple of races this week that came with challenges, but we overcame that and went on to win the championship."
After a third-place finish in the opening night of competition, Anderson went on to win four-straight races before winning his fifth race on the final night of Speedweeks. Skinner also brought home five second-place finishes, including three 1-2 runs with Anderson. The duo made it look easy as they claimed the top two spots in the championship, with each of them only recording one finish outside the top five.
"I can't thank everyone at ATF & Gunslinger enough; this has been pretty incredible," said Anderson. "To have five wins and a championship at Speedweeks, we're pretty pumped up. It was a lot of fun racing against Skinner—we raced each other the hardest, but we had a lot of fun battling it out."
ATF & Gunslinger has been winning on the late model circuit for the last three years, with drivers like Anderson, Skinner and Carter Stokes all visiting victory lane. This year, the team will compete with Cole Anderson in a varied schedule of Pro Late Model and Super Late Model races across the Southeast.